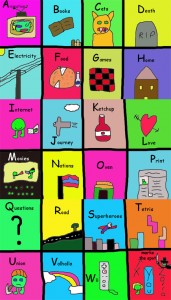 Click on the poster to make it bigger!
Feel free to make it a desktop, print it out, share it, pass it along. What a great way to learn your alphabet with PEAS!
This is the last three weeks of Peas strips combined into one for your pleasure. If you want it even bigger get in touch and I'll send you the file. I'm going to be off the grid for most of the week as we move to Asheville, NC so I wanted to go ahead and get Peas up now so we wouldn't miss a week. Enjoy!