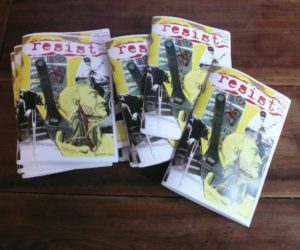 I contributed a short story in the form of a postcard to Resist Issue 51,
get your copy here.
Thanks for reading.
My take on the Christmas tale, The Christmas Knuck is free on my blog here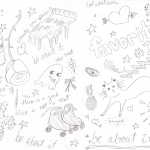 My poem Endings appears in issue 11 of Be About It Zine which can be purchased here.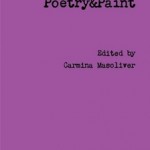 My flash story Housing appears in the latest
Poetry & Paint the Future edition.
The editor descibes my story like this
'Shawn Scott Smith envisions a sci-fi, technologic utopia, of sorts. Yet, its satirical tone is mocking of advertising speech, and as we see a world unfold where we build upwards, it soon appears closer to a dystopia"
You can buy physical copies in Color Black and White and an ebook edition is also available here.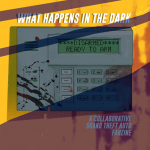 I have a piece of artwork in this Grand Theft Auto Zine. Enjoy.
What Happens in the Dark, A Grand Theft Auto Zine
Read it on Issuu here
I have my creature paintings available at Etsy. You can see alot of them on the front page.
Also I have had my hand in all of the following pieces below many which you can order through this site.
Lanterns print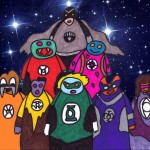 at Etsy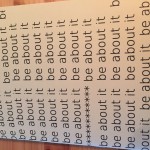 be about it issue 10 my poem "like a" is included in this zine out of San Fransisco. 3$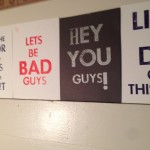 Various letterpress printed postcards featuring sayings from various movies and tv shows. All on my etsy for ordering.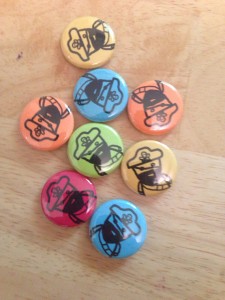 Pirate buttons available at Etsy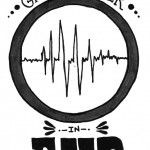 I am the cocreator with Jessica C. White of the comic Jessica Parasol, Daytime Ghost Hunter. We have two mini comics out currently. EVP and Tea for Two They are both $1.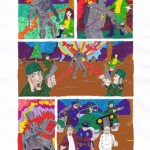 I did colorist work for the Rom Remix charity project put together by Rob Harrington of Ginger Rabbit Studio. I did the colors for the remade page 14 by artist Brad Gischia.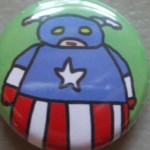 Captain America Buttons available at my Etsy
I
Artistic Rebuttal is a collection featuring statements and illustrations with the hope to illustrate the importance of the arts. I have a piece in the 2012 collection. You can purchase a physical copy at Lulu.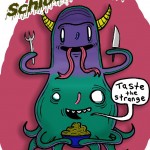 Schlocksuckers #1 I have a short story in this collection of the bizarre. Buy a copy at the publishers site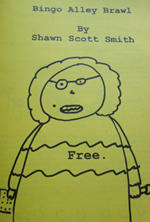 Bingo Alley Brawl. My Short story in Zine format with illustrations. It's free if you want one. You can read the story online in this blog post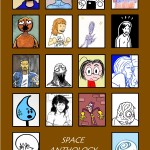 My comic story Whatever is one of many contributions to the Space 2012 Comic Anthology. It's available as a free pdf download and also for the Cloud 9 Comics App at Itunes. Print version available at Amazon SPACE Anthology 2012 (Volume 1)

. The original art is available here.

My 2012 convention print Avengers Assemble. Only available during the 2012 calendar year.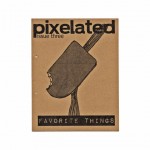 Pixelated Issue #3 My Favorite Things. I have a short story Small Moments in this zine. Get it
at Pixelated issue 3 at Etsy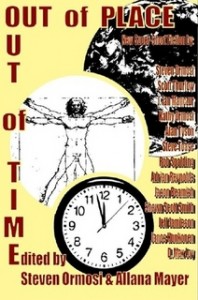 My short story "The Morning News" appears in this new collection Out of Place, Out of Time available here in print at Lulu. There is also a kindle edition available here for only 2.99. Book is published by Life after Death Publications and features 13 other authors. Get yours today in either format!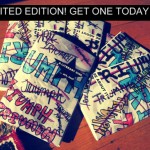 "Be About It" The Triumph Issue, My short story The Statues of Iowa City appears here. This is the 4th issue of this limited edition zine from California. You can get a copy at this link while available.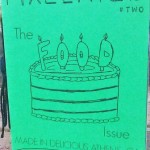 I have a short story called "FINAL EGGS" in the second issue of this zine Pixelated out of Athens, GA. It's a food issue. You can get it from the editor's etsy site here.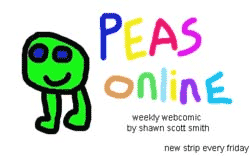 My webcomic Peas ran from 2007 to 2011 here. They are archived online for you to read whenever you want.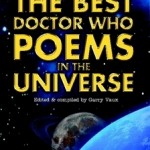 I've got a poem in this international collection devoted to Doctor Who. My poem is based off the episode Blink. The Best Doctor Who Poems in the Universe Website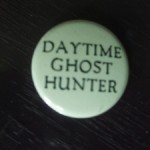 Buttons! Based on our comic Daytime Ghost Hunter, these buttons Glow in The Dark! These snazzy buttons are just 1 dollar!
Get one today at the Daytime Ghost Hunter page here.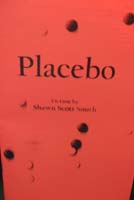 <
Placebo has now been collected. Originally published right here on my blog in 32 weekly increments, now available in this ten page zine edition. Nice Lava red cover. Thanks for reading! Available here on the site or at my etsy store. Only $1.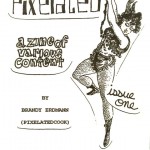 Pixelated Issue 1. I have two poems, City Sounds & In Passing in this zine based out of Athens, GA. It's available at the creators Etsy site.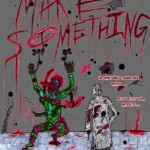 Make Something #4 This magazine includes my short story A Sword Walks Into a Bar and I also did the art for the back cover. Available here at Magcloud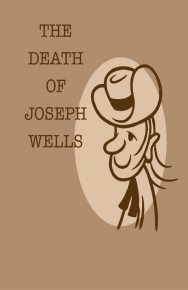 The Death of Joseph Wells: I'm the writer on this awesome comic with the super talented Daniel L Maw. It's available here at Comixpress in full color for $5. Comixpress is out of business, so this is no longer in print.
The City is my experiment using print on demand to release different stuff. Available in print for 3.00 or free for the Ipad. The City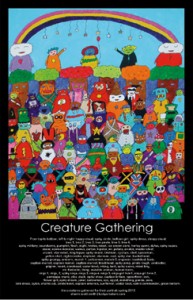 Creature Gathering Poster of my painting measures 11″ by 17″ and is available here or on my etsy site.
Peas Buttons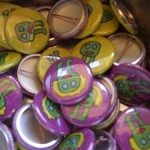 Show your Peas with Buttons available in both Bob and Sally forms here
Lucky Creature Attacks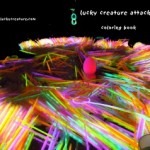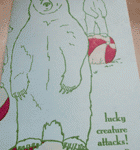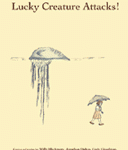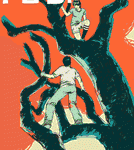 Lucky Creature Attacks Anthology issues #1-4 all available here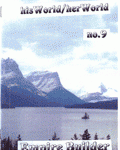 His World Her World #9 by Jessica White and Myself here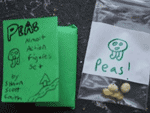 Peas Almost Action Figure Set here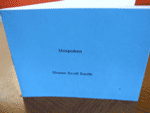 Unspoken Zine My poetry, ramblings, here
Posters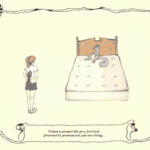 The Present by Jessica C. White Artist Poster Serieshere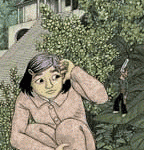 Abandoned Temple By Jonathon Dalton Artist Poster Series here
Music Releases

N.o.t./The Disease Split 7″ two awesome bands one blue vinyl 7″ Out of print.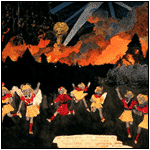 Mark Schwaber "The Killing Card" A beautiful cd we are honored to have helped release. Out of print.
Out of Print


Our History Our Future 12 band cd compilation. Out of print. here
Out Of Print


Split 7″ with myself and the wonderful Brendan Odonnell. Out of Print. Info is here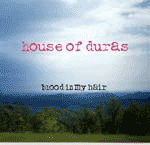 Free online only album i did. It's not great, but it's free House Of Duras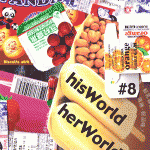 <
His World Her World is a zine I release with the Wonderful Jessica White Issues 1 -8 are out of print and can be found at the His World Her World Archive Issue #9 is still available here
the following records were released by us under the name fond of fabrication. when we decided to call it a day, the wonderful No Karma in Wisconsin sold through the remaining stock.


fof 003 Exercises In Breathing " An Entrance into Film Noir" CD 1,000 pressed, May 99. Cd by Scott Smith and Christina Thompson. Quietcore at its finest hour. Out of Print.
cd now up on YouTube for your quiet times, Stream it on youtube
fof-002 Better In Blue Comp
6 bands packaged in a blue mailing envelope. 1,000 pressed Fall 1998. Bands were Mishima, Cup 388, The Emotional Strain, Civic, The After Thought, Curbside Journal. Out of Print

fof 001- Another Sevenfold "thousand star serissa" 7″
original release date may 97. print run 500 copies, black vinyl.
Three songs by this NC post HC/Screamo Band.