This above piece, by Suzuran which can be seen in it's full size over on Comics Alliance has me loving the 8-bit interpretation of Marvels vast array of heroes. Something about little Hulk is too cute.
The American production of Torchwood Season 4 features some fine writers, Doctor Who News
Universal Monsters join the Minimate line this fall, Art Asylum Blog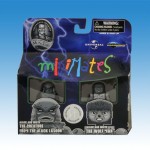 Less than a week left to buy my Panda Star clothing here
And College Football is in the air, full tv schedule with midwest times(east coasters just go forward an hour) here
Currents is my occasional collection of links that interest me.